E-Soc Control Stations are the perfect blend of the scalable, adjustable, and affordable solutions found within Winsted's award-winning Prestige Command Consoles and our Encompass II Workstations. E-SOC features the Versa-Trak monitor mounting system for ergonomic comfort and adjustability. Lift-off access panels, integrated cable management and a hinged corner make E-SOC control stations and command consoles a flexible and feature-rich solution suitable for any control room application.
GLOBAL LEADERS IN CONSOLE DESIGN
From concept to manufacturing, Winsted engineers product designs that consider the application and the user. Whether mission-critical applications or basic operator needs, we offer unmatched control room consoles, accessories and custom solutions for any size, space and situation.
E-SOC CABLE MANAGEMENT
Enhance reliability while protecting and managing your cables. All E-SOC Control Stations feature convenient cable management solutions that are easily accessible.
E-SOC HINGED CORNER
E-SOC's innovative hinged corner offers the ultimate in flexibility.
E-SOC RACK MOUNT
Winsted offers a 19" EIA Rack Mount Cabinet to compliment your Control Station.
E-SOC RACK MOUNT TURRET
Optional rack mount turret easily mounts to the E-SOC chase to keep electronics within easy reach.
LAMINATE WITH SAFEGUARD
Durable high-pressure plastic laminate surface
Available in a wide variety of colors and patterns
Optional textures and gloss levels available
Laminate is bonded to 1-1/8″ thick MDF core
Easy to clean and maintain
Safeguard Edge provides exceptional durability
ENDURANCE PLUS
Protective bumper on the front edge for improved durability
Ability to produce multidimensional profiles for comfortable edges
Easy to clean with soap and water
Reduces visible seams
Safeguard Edge provides exceptional durability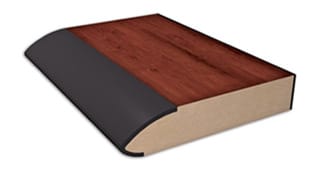 COMFORT EDGE
Permanently bonded black urethane creates a long-lasting, water-tight seam with a smooth finish
Ergonomic profile provides comfort and reduces the risk of injury from sharp edges
Antibacterial and antifungal additives promote a healthy work environment
UV-resistant urethane will not change color or deteriorate over time
Suitable for the most demanding 24/7 control room operations
EASY ACCESS TO
WINSTED RESOURCES